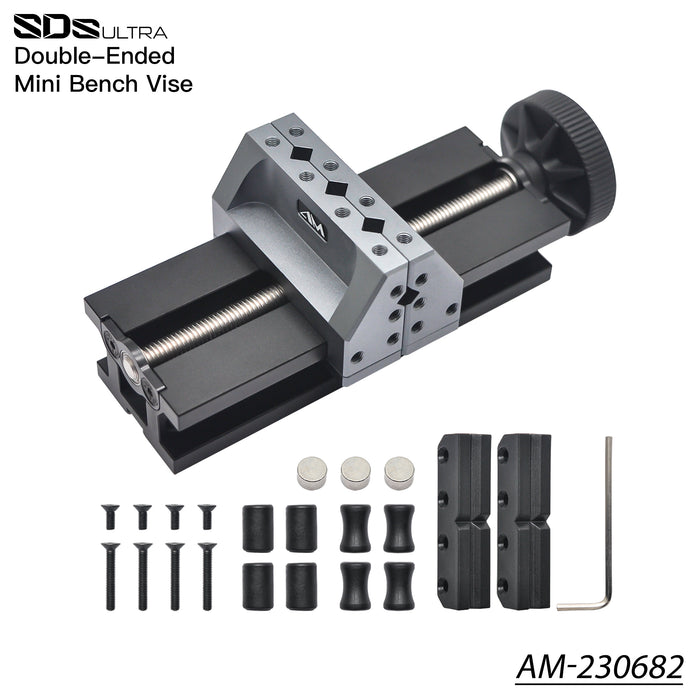 AM-230682 ARROWMAX Double-Ended Mini Bench Vise
Save

0

%
Save %
Original price
$53.99
-
Original price
$53.99
Enhanced Precision: The Double-Ended Mini Bench Vise by ARROWMAX is designed to provide superior stability and precise control while working on small objects, allowing you to achieve accurate and error-free results in your craft projects.
Self-Centering & Double-Ended Design: This innovative bench vise features a self-centering mechanism that automatically aligns objects, ensuring a secure grip from both ends. Say goodbye to wobbling and slippage during your work, and enjoy seamless handling with this unique design.
Versatile Use: With a generous length of 68mm and a width of 38mm, this mini bench vise is ideal for a wide range of tasks, from delicate jewelry-making to intricate electronics repair. It accommodates various materials and projects, making it an indispensable tool for crafters and DIY enthusiasts.
Durable CNC Aluminum Construction: Crafted from high-quality CNC aluminum, this mini bench vise offers durability and sturdiness, capable of securely holding your workpieces in place. Experience reliable performance that stands the test of time.
Portable & Magnetic Adsorption: The compact and lightweight design of the Double-Ended Mini Bench Vise allows for easy transportation, making it a versatile addition to your crafting arsenal. Additionally, the magnetic adsorption feature simplifies installation, effortlessly positioning the vise with the support of your drill press.